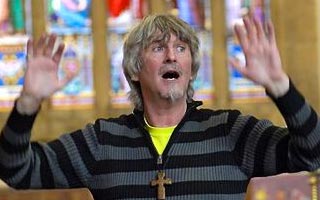 Reverend John Bell
February 10-13, 2013
First Presbyterian Church
A traveling Church of Scotland pastor and musician, Reverend John Bell is member of the Iona Community, an evangelical community dedicated to working for peace and social justice, rebuilding of community, and renewal of worship.
His visit opened on February 10 with worship at First Presbyterian Church. He held a "Big Sing" as part of the McShane Lecture series later that afternoon, and he concluded the evening with a retreat Ten Things They Never Told Me About Jesus at Transformations Spirituality Center.
Bell concluded his visit on February 13 with two Ash Wednesday services at First Presbyterian shared with other Bronson Park churches.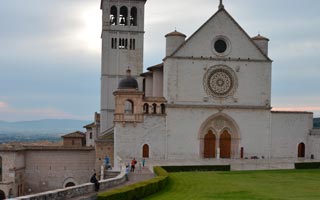 The Assisi Connection
August 28, 2013
First Baptist Church
MFSM Executive Director Elizabeth Start and Grant Park (Chicago) Symphony principal flutist Mary Stolper performed the world premiere of Assisi Impressions, the U.S. premiere of Assisi Musings composed by Start and pieces for flute and cello written by others. An informal travelogue of Start's visit to Assisi preceded the concert.
Start's visit to Assisi made possible in part with funding for professional development from the Michigan Council for Arts and Cultural Affairs.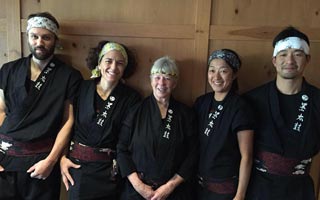 Sound & Spirit of Kalamazoo
November 7, 2013
First Baptist Church
Our annual program featured a sampling of musicians from across the area, representing diverse faiths – Bell Book & Canto; organist Robert Jordan; Michigan Hiryu Daiko/Flying Dragon Drummers (pictured); Borgess Resounding Spirit Choir; dancer Carmen Chamochubmi; Sikh musicians Rajwinder Kaur and Gaggan Singh; and a Taize duo with Carolyn Koebel and Elizabeth Patterson.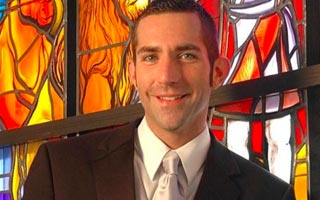 Scott Montgomery Master Class
November 9, 2013
St. Augustine Cathedral
Director of Music Ministries and organist for Holy Cross Roman Catholic Church in Champaign, Illinois, Montgomery worked with Kalamazoo area organists in a master class format.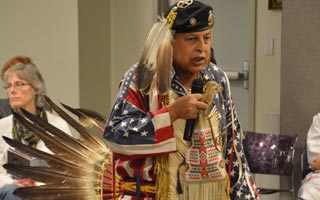 Sons of the Three Fires
November 9, 2013
Kalamazoo Public Library
The Native American group Sons of the Three Fires (Chippewa, Ottawa, and Potawatomi tribes) performed two 45-minute shows at the Kalamazoo Public Library, demonstrating their music and heritage.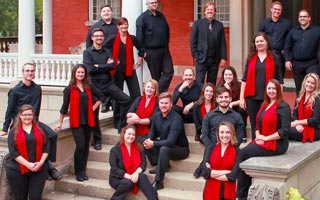 Cor Cantiamo Workshop with Daniel Knaggs
November 9, 2013
First Presbyterian Church
Cor Cantiamo, a professional chamber choir in residence at Northern Illinois University, presented a workshop with composer Daniel Knaggs, discussing and demonstrating the new work they premiered at their concert on November 10.
Chatur: Indian Music and Dance
November 9, 2013
First Baptist Church
Kalamazoo native and virtuoso performer of the mridangam (South Indian drum), Rohan Krishnamurthy returned to Kalamazoo to perform a program of Indian music with Samir Chatterjee (tabla), Raman (flute), and dancer Mallini Srinivasan.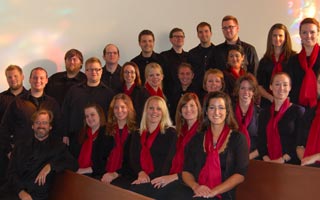 Cor Cantiamo
November 10, 2013
First Presbyterian Church
The young professional choir from the Chicago area premiered Hear My Voice by composer Daniel Knaggs, a commissioned work by the Michigan Festival of Sacred Music and the Briner Lectureship of First Presbyterian Church of Kalamazoo.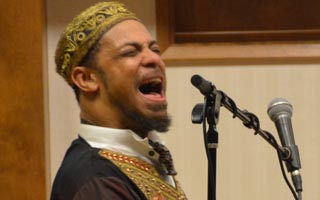 Joshua Nelson
November 10, 2013
Congregation of Moses
Joshua Nelson is the prince of Kosher Gospel, a marriage of Jewish religious lyrics and meanings with the soulful sounds of American gospel music. His performance at Congregation of Moses was a highlight of the 2013 Festival.
Nelson's appearance was co-sponsored by The Jewish Federation of Kalamazoo and Southwest Michigan with support in part from the Ravitz Foundation.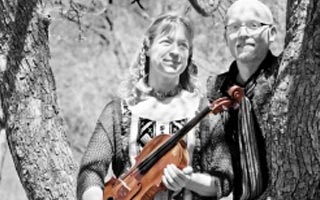 Guided Meditations with Joseph and Grace Byrd
November 11, 2013
Zion Lutheran Church
Joseph and Grace Byrd guided the audience through music of Vaughan Williams, John Beall, and Arvo Part, all framed by the words of both poet and visionary William Blake.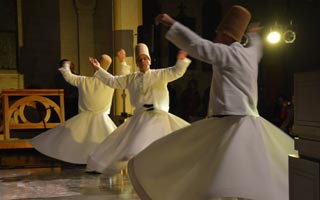 Turkish Musicians and Whirling Dervishes
November 12, 2013
Holy Family Chapel
In collaboration with the Turkish American Society of Michigan, we presented authentic Sufi music from Turkish musicians and "whirling dervishes" from the Konya Turkish Tasawwuf Music Ensemble at Holy Family Chapel.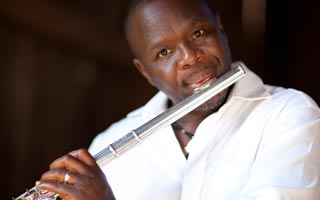 Samite
November 13, 2013
Kalamazoo Public Library
The world-renowned Ugandan musician and music therapist performed a free show at the downtown branch of the Kalamazoo Public Library.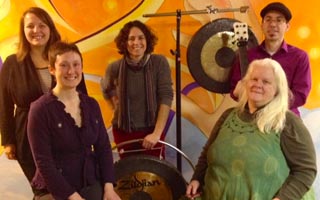 Southwest Michigan Taize Collective w/Elden Kelly
November 14, 2013
Kalamazoo Nature Center
A multi-faith, nature-themed taizé program featured the ensemble's core members Carolyn Koebel, Rainbow Weldon, and Heather and Janice Marsh-Prelesnik. They were joined by by vocalist Beth Patterson, bassist Jon Moody, and multi-string virtuoso Elden Kelly.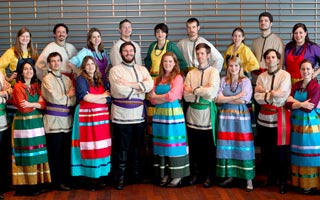 Golosá
November 15, 2013
St. Luke's Episcopal Church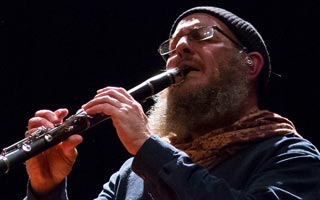 James Falzone: Sighs Too Deep For Words
November 16, 2013
Holy Family Chapel, Nazareth Center
Solo clarinetist James Falzone presented Sighs Too Deep for Words, a meditation presentation that took the audience through a wide range of moods and sonic worlds.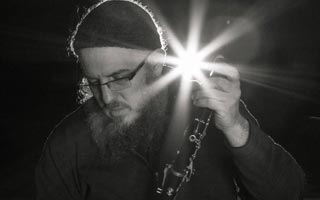 James Falzone's Allos Musica
November 16, 2013
Holy Family Chapel, Nazareth Center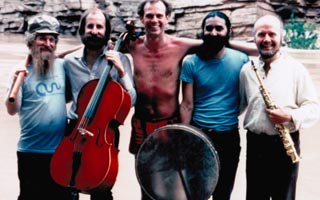 Paul Winter Consort
November 17, 2013
Chenery Auditorium
Co-sponsored by the Kalamazoo Nature Center, award-winning saxophonist, bandleader, composer, and explorer of the world's musical traditions Paul Winter performed a program celebrating the sacredness of the Earth. He was joined by Paul Sullivan (piano), Eugene Friesen (cello), and Jamey Haddad (percussion).
This presentation was supported by the Arts Midwest Touring Fund, a program of Arts Midwest funded in part by the National Endowment for the Arts, with additional contributions from General Mills Foundation and the Michigan Council for Arts and Cultural Affairs.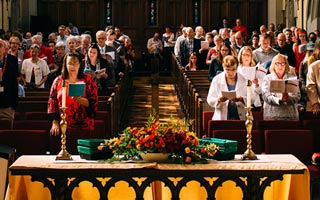 Messiah Sing
December 1, 2013
First Congregational Church
A community tradition since 1995, the annual Messiah Sing was held in the historic First Congregational United Church of Christ in downtown Kalamazoo.