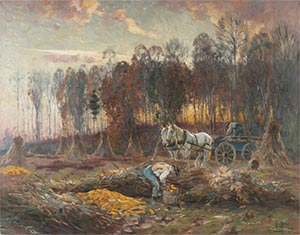 Musician's Notes
"As having roots in the south, I have much experience seeing individuals 'working in the field' where they would husk corn, pick various vegetables, work with horses and much more. The music I composed for this specific artwork highlights different southern music traditions such as bluegrass, gospel, and the blues.
"This piece really utilizes musical characteristics from what many field workers called field songs. These songs embody simple melodies and harmonies, and over time, these melodies were put over more complicated harmonic structures and became gospel, jazz and other American musical art forms. This musical response shows the simplistic melody over a developed harmonic scheme."
About the Artwork
Visit Kalamazoo Institute of Arts website
About the Musician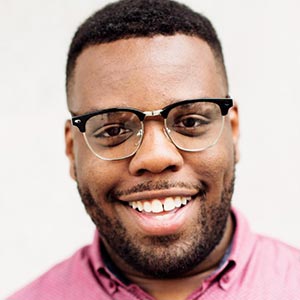 Rufus Ferguson is an experienced performer, arranger, composer and teacher, who earned degrees from Western Michigan University under the mentorship of Jeremy Siskind and Matthew Fries. He has shared the stage with artists such as Dwight Adams, Bob Hurst, Rodney Whitaker, Ali Jackson, The Temptations and many more.
Rufus got his start studying classical piano at the age of five. He became a gospel church organist at a young age and later began playing jazz piano at age 13. His dedication to being equally well-versed in multiple genres of music has made him a fixture in the regional jazz, R&B and gospel music scenes.
Rufus is currently Education Manager for the Kalamazoo Symphony Orchestra and Jazz Vocal Accompanist at Kalamazoo College. He also serves as Director of Community Partnerships at the Kalamazoo Music School.