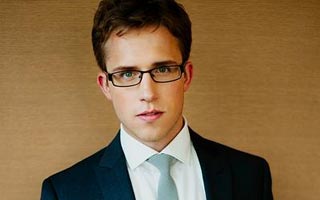 Brandon Ridenour and Useful Chamber
Sunday, March 15
First Baptist Church
The Michigan Festival of Sacred Music's 2015 Commissioned Composer Brandon Ridenour performed a wide range of music with his New York City-based group Useful Chamber.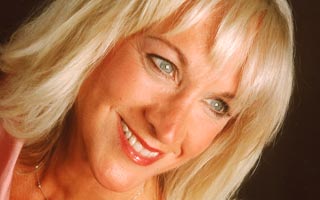 MFSM Annual Dinner with Susan B. Anthony
Tuesday, September 15
First Baptist Church
Opera luminary and local favorite Susan B. Anthony joined the Michigan Festival of Sacred Music for a special evening of food and entertainment.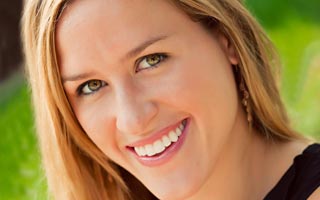 Sound & Spirit of Kalamazoo
Thursday, November 5
First Baptist Church
Our annual program featured a sampling of musicians from across the area, representing diverse faiths – Katelin Spencer (soprano, pictured); Clarence W. Small (violin); a performance of the Bharata Natyam (classical Indian dance) by Pavitra Attanayake; Famoro Dioubate (bala – early African xylophone); John C. Griffin (piano); Jordan Hamilton (cello); Monica Washington Padula (piano, organ); […]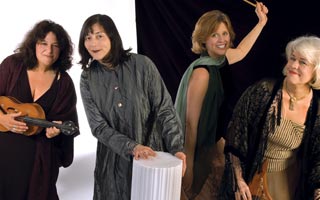 Tapestry: Song of Songs
Friday, November 6
Holy Family Chapel, Nazareth Center
The critically-acclaimed vocal chamber ensemble returned to Kalamazoo for our 2015 Festival, presenting its artistic interpretation of Song of Songs, a program of Song of Solomon texts that brings together Jewish and Christian traditions.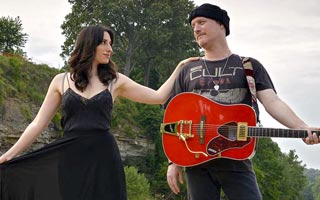 HuDost
Saturday, November 7
Kalamazoo Public Library
Self-described as "the Neo-Folk World-Rock Ensemble from Montreal and Kentucky", the music of HuDost crosses all borders and barriers.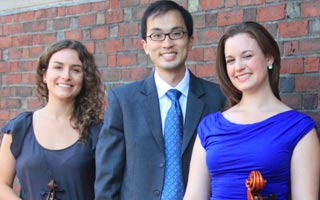 Trio Speranza
Saturday, November 7
First Congregational United Church of Christ
Trio Speranza – violinist Anna Griffis, cellist Cora Swenson Lee, and harpsichordist Jason Moy – presented an engaging and thought-provoking performance of both familiar and lesser-known repertoire from the Baroque era.
Rohan Krishnamurthy with Tisra
Sunday, November 8
St. Luke's Episcopal Church
Kalamazoo-native Rohan Krishnamurthy (mridangam South Indian drum) performed with Tisra – violinist Arun Ramamurthy and dancer Malini Srinivasan – for a program of South Indian Music and Dance.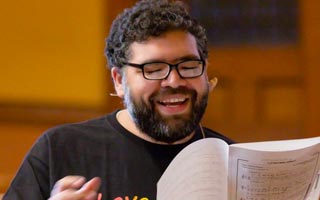 Ahmed Anzaldua
Sunday, November 8
First Baptist Church
A Mexican classical pianist, teacher, and conductor of Egyptian descent, Ahmed Anzaldua performed a solo piano recital at First Baptist Church.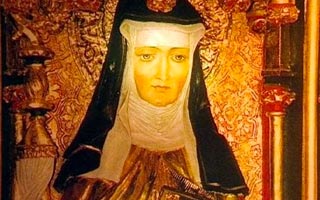 Hildegard Then and Now
Monday, November 9
Holy Family Chapel, Nazareth Center
Diane Penning and Barbara Witham McCargar of the Hildegard Singers performed a program of Hildegard von Bingen works and modern music inspired by the 11th century composer and philosopher. They were joined by Lawrence Axelrod (piano), Patricia Morehead (oboe), and Elizabeth Start (cello). The program was originally presented in 2015 in collaboration with the 50th […]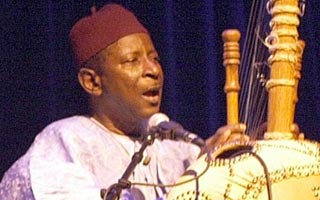 Alhaji Papa Susso
Tuesday, November 10
Arcus Center for Social Justice Leadership
The master kora player, oral historian, and goodwill ambassador from The Gambia, West Africa, presented the amazing sound of the African harp-lute at the Arcus Center for Social Justice Leadership. He also presented a free workshop at the Kalamazoo College Light Fine Arts Building the morning before the performance.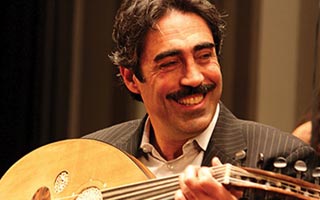 Simon Shaheen
Thursday, November 12
St. Thomas More
One of the most significant Arab musicians of his generation, Shaheen has earned international acclaim as a virtuoso on the oud and violin.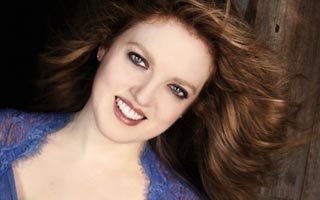 Rachel Barton Pine
Friday, November 13
Chapel Hill United Methodist Church
Internationally acclaimed violinist Rachel Baron Pine made three appearances at the 2015 Michigan Festival of Sacred Music. The first was a concert at the Chapel Hill United Methodist Church in Portage, performing a multi-faith and multicultural concert, including the premiere of a new work by Yale Strom. Ms. Pine's appearance at the 2015 Festival was […]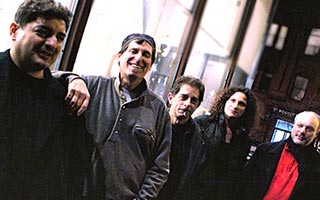 Yale Strom and Hot Pstromi with Rachel Barton Pine
Saturday, November 14
Congregation of Moses
Yale Strom was joined by his band Hot Pstromi and special guest Rachel Barton Pine in a concert at Congregation of Moses.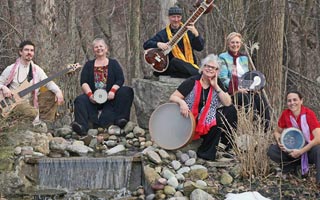 Sacred Waters Kirtan
Saturday, November 14
Unity of Kalamazoo
Singing in ancient languages of world religions, the Kirtan invited the audience into devotional chanting across interfaith paths to unity.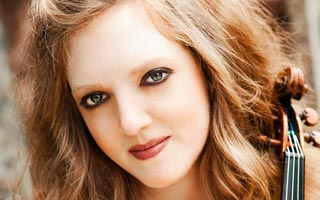 Rachel Barton Pine with the Kalamazoo Junior Symphony
Sunday, November 15
Chenery Auditorium
The award-winning violinist and mentor to young musicians performed the monumental Brahms concerto with the Kalamazoo Junior Symphony Orchestra, concluding her 2015 Festival appearance.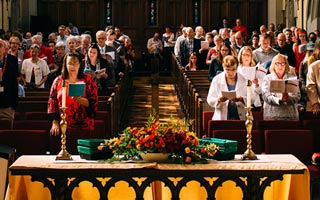 Messiah Sing
Sunday, November 29
First Congregational Church
A community tradition since 1995, the annual Messiah Sing was held in the historic First Congregational United Church of Christ in downtown Kalamazoo.