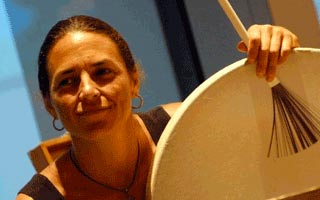 Honoring the Passage
May 16, 2014
St. Luke's Episcopal Church
In partnership with Hospice Care of Southwest Michigan, MFSM presented a CD release concert for Honoring the Passage: Voices from Hospice Music Therapy & Beyond, an album honoring the music we hold sacred at end-of-life. Performers included music therapists Carolyn Koebel (pictured), Gretchen Ross, David Melbye, Laura Pawuk, and a cast of musical guests.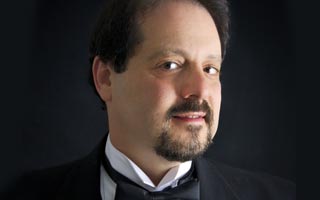 Dreams and Memories
May 20, 2014
First Baptist Church
The Michigan Festival of Sacred Music presented Dreams and Memories – a concert in remembrance of the Holocaust – featuring an unusual combination of musical works by Laitman, Heggie, and Messiaen.
Performers included Western Michigan University voice professor Carl Ratner; Western Michigan University's Theatre Department Chair Emeritus D. Terry Williams as narrator; Barry Ross (violin); Georgiy Borisov (clarinet); Betsy Wong (flute); John Griffin (piano); dancer Michael Parmelee; and Elizabeth Start (cello).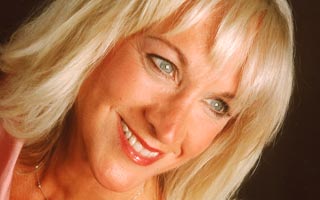 Susan B. Anthony and the MFSM Annual Dinner
September 17, 2014
First Baptist Church
Opera luminary and local favorite Susan B. Anthony joined the Michigan Festival of Sacred Music for a special evening of food and entertainment.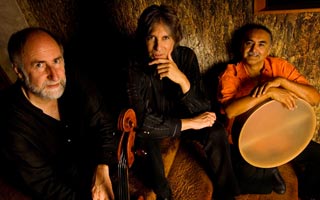 Trio Globo
October 22, 2014
Western Michigan University – Dalton Center Recital Hall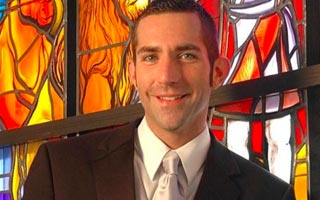 Scott Montgomery – St. Augustine's Music at the Cathedral Series
November 8, 2014
St. Augustine Cathedral
Director of Music Ministries and Organist for Holy Cross Roman Catholic Church in Champaign, Illinois, Scott Montgomery presented a program taking full advantage of the magnificent organ at St. Augustine Cathedral.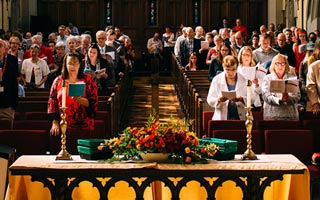 Messiah Sing
November 30, 2014
First Congregational Church
A community tradition since 1995, the annual Messiah Sing was held in the historic First Congregational United Church of Christ in downtown Kalamazoo.